Static book designs provide a new avenue for publishers to place books on a fast-track to completion and final publication. TNT Static Designs—like those TNT created with one of our clients for its Gem program—offer flexibility, ease of use, rapid production, and cost-savings.
Static Designs in Action
A collection of static designs are kept on a secure, password-protected area of the TNT website—like the snapshot of the site created for our client below. Only authorized users from your publishing company are allowed access to your designs. When a static design is needed for a book, editors or designers can log on to the secure site, browse the available designs, choose a final design for the project, and add specs to the design if needed. To easily convert manuscripts to typesetter files use TNTEdit for Microsoft Word® for keymarking and editing.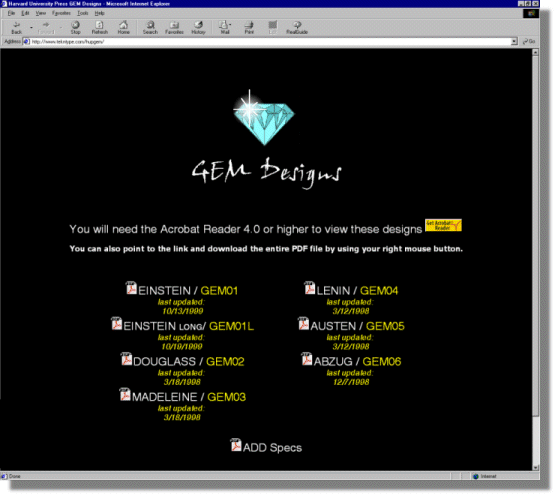 Publishers log on to their static design library page at TNT. From here you can view PDF files of all your designs and access the Add Specs form. The names in white are the names the publisher chose for the designs, followed by TNT's codes for each design in yellow. You can click on the EINSTEIN LONG or DOUGLASS links above and view design PDFs as they are seen by the publisher. Click the ADD Specs link to check out the Add Specs form. Adobe Acrobat Reader 4 is required to view PDF files.

Turn One Book's Great Design Into a Reusable Static Design
TNT can develop your existing book designs and turn them into a library of static designs to be used again and again. Design specifications and sample pages—stored as Adobe Acrobat® files—can be accessed at any time. Within each design, TNT can help you create sample pages for variations in table of contents layouts, part and chapter opening designs, and headings.
Building Upon a Static Design - Adding Specs
Static designs do not have to be set in stone. When a new element needs to be added—either for a single book or to the base design—you can access a simple form to update the design, Check off which static design you want to change, whether the spec should be added to the current book design only, or to the overall base design, and fill in the details for the new spec. If the spec is added to the base design, TNT will revise the design to include the new spec, and repost the updated PDF on your secure area. With this flexibility, static designs can grow and evolve as new projects are used with the design.
Cost and Time Savings
In one example, a book using the GEM01 design contained 663 manuscript pages . In 8 days TNT inserted edits from green ink on white bond into TNTEdit electronic files, flowed the TNTEdit files into desktop publishing software, and sent pages back to the publisher. Reducing most of the time from the design phase of the project and eliminating the need for sample pages significantly reduced both the time and cost to bring the project to completion.